Recently I have been automating my house with trinkets and I would like to share with you how I can control my house from my phone now. This allows me to do almost everything from my couch while I watch a movie
My house has 2 garage doors which currently are running on Chamberlain garage door openers. There is a universal kit (works for all garage door openers) from Chamberlain that runs about $150 from target or amazon which allows you to control your garage doors from your phone from anywhere. It works by connecting to your home wifi to connect to Chamberlains MyQ and communicating with the MyQ application on your phone. This is great because it allows me to open and close the garage doors without the remote and give access to my friends that stay over easily. Another cool feature is the sensor which knows when the door is open or closed , for those times when I forget to close my door or thought I forgot to close it .. I will know right on my phone if the garage door is open or shut. I had to buy a second sensor for $40 for the second door, but it works great.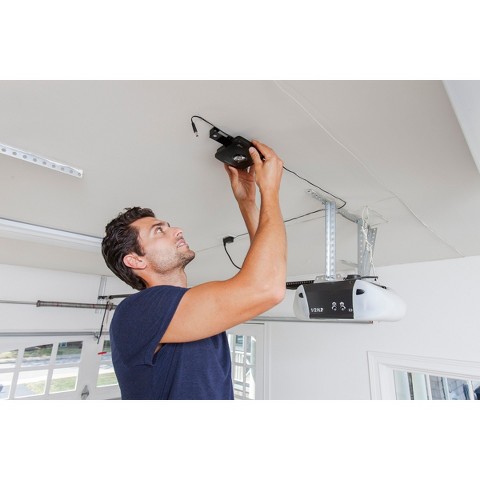 Target link below, also link for additional sensor if you have more than one door
http://www.target.com/p/myq-garage-door-opener/-/A-16406348#prodSlot=medium_1_1&term=myq
http://www.homedepot.com/p/Chamberlain-MyQ-Garage-Door-Sensor-MyQ-G0202/205325717
The second part of home automation is lighting. To automate the lightning I used Belkin Wemo remote switch outlets which works the same way as the garage opener (wemo app) and can be controlled from the phone. I can turn on lights before I am home or turn on the rice cooker before I get home.
http://www.amazon.com/WeMo-Switch-Compatible-Amazon-Echo/dp/B00BB2MMNE/ref=sr_1_1?ie=UTF8&qid=1446671793&sr=8-1&keywords=wemo
The third part of home automation is heating and central air. For this I used the NEST thermostat to control my house temperature. The best part is that it "learns" when you are comfortable and sets that temperature during different times of the day.
http://www.amazon.com/Nest-Learning-Thermostat-3rd-Generation/dp/B0131RG6VK/ref=sr_1_2?ie=UTF8&qid=1446671846&sr=8-2&keywords=nest